The Dipper and the Bucket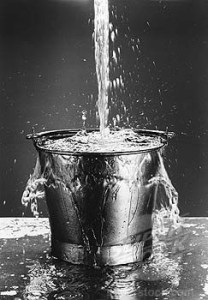 There is an absolutely wonderful book entitled, How Full Is Your Bucket by Tom Rath and Donald O. Clifton, Ph.D. that offers the metaphor of the dipper and the bucket. They suggest we each have an invisible bucket that is constantly being emptied or filled based on what others do and say. My experience is that a major factor affecting the emptying or filling of that bucket is in YOUR hands!
A full bucket inspires a positive outlook and approach along with renewed energy. Each time you fill your own bucket (or someone else's) you get stronger.
But an empty bucket poisons our thoughts, zaps our energy and weakens our will to take action.
So we face a choice on a daily basis. Do we fill or empty other's buckets (which indirectly affects our own)? Do we leave it up to the external world to fill or empty our own bucket or do we take charge of filling it ourselves? Well, you already know what I think the best answer is to that question. 😉
It's a profoundly important choice / decision for you to make, one that will influence your relationships, productivity, health, confidence, happiness and success.
Spread the word, Debra